Introducing the Moffett. Graber Supply added this handy piece of equipment to our fleet in the fall of 2016.
What is a Moffett? It's a truck-mounted forklift providing more productive and flexible delivery options for our customers. These unique lifts offer more precision and versatility when it comes to delivering building packages and materials.
The Moffett gives the option to unload cargo without waiting for customer or builder assistance, giving better scheduling and drop off options when timing is crucial and necessary to keep delivery projects moving. The benefit of this uniquely designed forklift is that it brings a real solution to many job site challenges.
This lift provides extended reach capabilities, meaning it has pantograph and telescoping forks, allowing the unit to position from the far side of a loaded truck with mast functions like side shift and tilt. This makes it easy to avoid the mast from coming in contact with trailer body. In addition, the Moffett has four-way steering for more maneuverability. This unit can sneak and wiggle into and through tight configurations to give a better and safe delivery option repeatedly.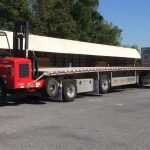 The Moffett forklift is trailer mounted on the rear of a truck or rig. This creates more space to increase the capacity for loads and deliveries. This allows transport of more materials and visit multiple customer sites while dispatched. The unit is very easy to dismount and unloading your delivery starts in minutes within arrival.
Maximum performance, safety-plus design, and trained operators are several reasons why the Moffett trailer mounted forklift is a smart choice for the Graber trucking fleet. Don't let site access challenges or clunky delivery logistics be a challenging part of your purchasing experience.